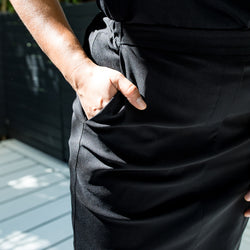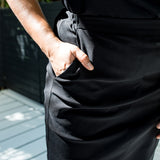 Rana stretch maxi skirt - black
The Rana stretch maxi skirt in beige is 
an ideal
 addition to your work-to-weekend wardrobe. It's crafted from our bengaline stretch fabric, which is wrinkle resistant and ultra comfortable, making for a polished look. This style is designed to be a winner on so many different body shapes and sizes.
The Bengaline fabric is the same as our Ashleigh stretch boyfriend blazer and Emma stretch crop pant. It's a breathable fabric that works year round. The fabric holds its shape all day long, is breathable and incredibly comfortable.

The straight maxi skirt style is on trend, yet timeless. The skirt is flat fronted with a faux fly, and a flat elastic waistband. This enables you to customise your fit and wear it high waisted, like Stacey who has long torso and a defined waist, or wear mid-waist above your tummy button, like Nikki, who has a short upper torso.
Yes, there are pockets! Wherever we can add products without compromising the integrity of the design, we add them in because we know you love it. The side seam splits give you movement and shows a little leg, which helps with proportions if you you're not super tall.
Check out the garment measurements and the heights of all our models to gauge where Rana might sit on you - keeping in mind, you can determine where to sit the waist.
Dress up with heels and our Ashleigh stretch boyfriend blazer for a modern take on the suit. Add a Cameo technical top for a sleek look, or dress down with one of our tees and tanks, sneakers and denim jacket. Heading out for the night? You can also wear this maxi skirt back with our Felicity technical billow blouse. 
Click the Fit tab to match your measurements to our models.
Also available in beige
Find out more about our quality bengaline HERE
Made in Australia.