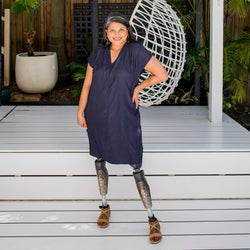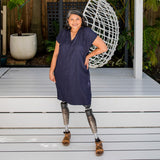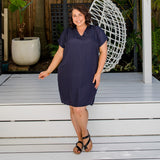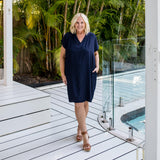 Charity technical dress - navy
You've been asking for our Charity technical dress in navy and we are delighted to let you know that your wish is fulfilled! 

The Charity dress is based on the shape of our Cameo technical tops. Charity is an elevated tunic one-and-done dress in our signature technical fabric, which has the feel and breathability of silk but the ease of washing and no ironing.
Charity features the same relaxed v-neck that drapes from shoulder tucks over the bust and through the body, and sits just on the knee - dependent on height (check the Fit tab to match your height to our models). This style sits higher at the back of the neck for added style. The drop sleeves sit easily under blazers and jackets. Yes, there are pockets! 
Charity can be dressed up or down for work or play. She's the lightweight one-and-done dress. She passes the Sneaker Test and looks equally as good with summery flats or heeled sandals.
Also available in black.
Click the Fit tab for our model's sizing details.

Made in Australia.
What is technical fabric? Click HERE to find out.