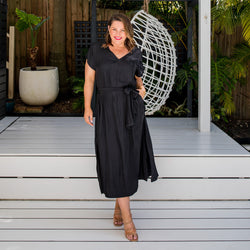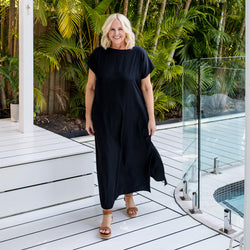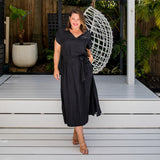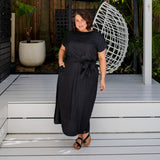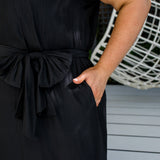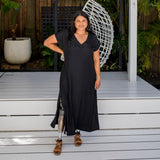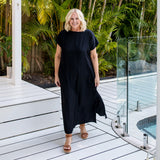 PRE-ORDER Sandra multi-wear technical maxi dress - black
PLEASE NOTE, this is a pre-order item with shipment in December 2023. Please email shop@stylingyou.com.au if you have any questions or concerns. Pre-orders will remain open until sold out. 
Our Sandra technical maxi dress sold very quickly when first launched on 25 October. So, we're re-ordering and opening up pre-orders to you.
1. THIS IS A PRE-ORDER ITEM. We're expecting it to be available to send to you from early December. This is not a guaranteed shipment time, just an estimation. This will be the only order of this product this year.
2. If you purchase another garment with this one, it won't be sent until the Sandra dresses are at our warehouse. We suggest doing a separate order for anything apart from the Sandra multi-wear technical maxi dress.
3. Please only buy one size - to keep it fair for all those on the waitlist. Click the Fit tab and match your measurements to our models. We are happy to help with this - just message us on Chat or socials, or email us at shop@stylingyou.com.au
4. You still might receive an automatic notification of a return on the original product listing. If you're lucky enough to secure your size that way, please email shop@stylingyou.com.au and we'd be happy to cancel your pre-order so someone else can get their hands on one of our fab new maxi dresses.
--------------------------------------------------------------------------------------
The Sandra multi-wear technical maxi dress is the versatile travel and everyday dress of your dreams. You can can dress her up or down; wear with or without the tie; and wear with the v-neck to the front or the back.

She is an elevated one-and-done dress in our signature technical fabric, which has the feel and breathability of silk but the ease of washing and no ironing.
If you love our Charity technical dress and are looking for a maxi length style then you'll love this new style. The shoulders and neckline are similar to our Cameo tops and the Charity dress and the slight a-line flow through the body over the hips is a similar fit to our Valyn dress.
Sandra features a similar relaxed v-neck that drapes from shoulder tucks over the bust and through the body, and is maxi length - dependent on height (check the Fit tab to match your height to our models). 
There are side splits for ease of movement and for balancing proportions with a flash of leg. Sandra comes with a self fabric tie belt but you could use your own belt or tie as a contrast.
This is a lightweight one-and-done dress your summer wardrobe needs. She passes The Sneaker Test and looks equally as good with summery flats or heeled sandals. She's perfect for holidays and your everyday style, as she doesn't crease and is quick and easy to launder.  
Click the Fit tab for our model's sizing details.

Made in Australia.
What is technical fabric? Click HERE to find out.
What is technical fabric? Click HERE to find out.